Get a High Quality Video Editing Service
at an Affordable Price!
We'll Edit All Your Videos for a Monthly Flat Fee
14 days money-back guarantee 
HOW WE HAVE HELPED INDIVIDUALS
GROW THEIR BUSINESS
After the birth of my daughter, I really wanted to scale my business. And hiring Editvideo.io was the push I needed to stay consistent with my brand, so I can really level up on my YouTube channel!
So, how does it
Really work?
Our service is as simple as
1
2
3
to use
Upload Your Assets
And Raw Footage
Just upload and share your assets and raw footage with us.
You will get unlimited free storage for your videos.
Get your video edited
in 24-48 hours
We will edit your video and send you a review link within 24 to 48 hours.
Your account manager will keep you updated about the project timeline.
Review – Approval
It is so easy to provide frame by frame feedback with our video proofing tool.
Share your feedback and we will fix and upload it back within 12 to 24 hours.
Receive post-able content for all your platforms
We'll share your edited video in multiple formats, so you can post it on Instagram, YouTube, and Facebook as soon as you receive the video.
When sound is turned off, grab attention with subtitles*
Many people have their phone's sound turned off. So, we offer free subtitles for IG Version that'll grab their attention as good as the audio.
*Up to 20 mins long per video
Take Your Audience from Instagram to YouTube
We create super engaging story snippets from your video content. Post it on your IG story, so they click on it, and your get more views!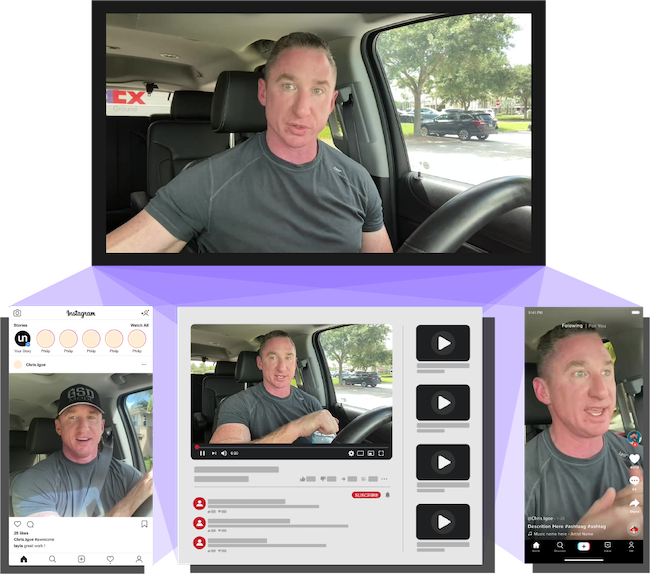 Solving The 10 Problems
Every content creator faces
Does any of these sound familiar?
| Your Problem | Our Solution |
| --- | --- |
| Too many projects, too little time | Dedicated video editors who work as reliable extensions of your team |
| Insufficient Storage Space | 200+ GB of safe & free cloud storage |
| Losing track of files & media | Project Management System to organize your data |
| Inconsistent Quality | Skilled & experienced editors to turn back premium content only (+ unlimited revisions!) |
| Hours wasted in Reviewing Edited File | Video Proofing tool for instant frame-to-frame feedback |
| Delayed Content Production & Publication | Speedy turnaround time of 24-48 hours |
| Trickling Views on YouTube | Social media boosters to maximize views |
| Budget Burnouts | Super economical pricing plans |
| Video Editing Apps with Generic Results | Human editors to understand & incorporate your custom brand voice |
| Hectic Content Repurposing | Deliverables that you can use for all social media channels |
And, if you can relate to these problems then you'll likely get crushed by your competition.
This is why we believe that a service that can solve all these problems is vital for your business.
Professional Video Editing Service for Content Creators.
Your Business and Personal Needs.
We are a team of expert video editors that have found solutions to the problems that are stopping you from making videos for your business.
Our affordable video editing service offers expert editing by skilled professionals. We'll take your raw footage and turn it into a polished final product that you'll love.
Let's work together to create amazing video content!
GROW YOUR BUSINESS
– BE IT THROUGH
Listen to what a finance coach
Spencer Johnson has to say about us
Since I have a dedicated video editor, I also don't have to comment the same thing over and over again as they learn from my previous videos. This has allowed me to raise my video upload frequency to 2 videos a week and thanks to Editvideo.io, I've been able to take my YouTube channel full-time!
So, How Much Does It Cost?
By now, you're probably wondering how much Editvido.io costs.
Well, we wanted to provide the best value, we wanted to include everything within the monthly plan
that any video creator can ask of.
We commit to a fixed number of videos – no promises of 'Unlimited Videos' when you know it's never the case or possible. So you can plan your month ahead and be assured you will get the promised videos.
That's not really unique now, we know that. BUT, regardless of the number of revisions, it won't affect the turnaround time for your videos in the queue or the number of videos you are supposed to get in a month.
With more people consuming content with the audio turned off, we offer free subtitles* along with every video to our clients. This way you can increase your reach and be able to get your message across even if your audience is in a less than ideal environment to be able to hear you.
*Up to 20 mins long per video
Get your videos resized for different social media platforms. We offer a 15 second Insta Story and a 1:1 version, Gary Vee style for every video we do for you. This way you can grow your audience across platforms and also use our Social Media Boosters to redirect them to your YouTube channel.
Additional 10% OFF on Quarterly Plans
Weekly Plan
4 videos/month
All project files included

14 Day money back guarantee
Ultimate Plan
10 videos/month
All project files included

14 Day money back guarantee
*Subtitles up to 20 mins long per video
Ultimate + Plan
22 videos/month
2 Dedicated video editors

All project files included

14 Day money back guarantee
Are you still on the fence?
What about getting a test video for free?
This will also help to fine tune your preferences with your editor before you even sign up!
Just fill out the form below and our team will be in touch with you
to guide you on the next steps.
All That Included In Our
Video Editing Sevice